Muddy Fun Run
Muddy Fun Run
4 February 2019 (by admin)
Great effort!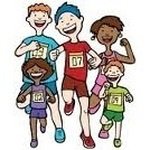 Thank you to everyone who took part and supported the Muddy Run on Sunday 25 January. Preliminary figures suggest we're close to £2,800!! Massive thanks to Mr Pillinger in his role as Muddy Run Chief and to the many kind people who contributed.
We still have some buffs left if anyone would like one. £8 each or 2 for £15.
Finally, if you managed to get sponsorship for your run, please hand your hard earned pennies in to the school office.
Many thanks, The PTA