RE Challenge - house points to be won!
RE Challenge - house points to be won!
24 January 2020 (by admin)
Ms Ostler has set an RE challenge for pupils! Friends and family members are welcome to join in.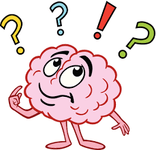 Coming out of her RE lesson yesterday, a pupil from Willow class said, "My brain was working as hard as it probably could!" At Barnabas Oley this is what we love to hear! Here are some RE Challenge Cards designed to really get you thinking. They are all very puzzling but I have colour-coded them to show which I think are the trickiest. The amber ones are tricky, the green ones are trickier and the purple ones perhaps the trickiest of all. I definitely don't have all the answers! Please choose the ones you find interesting and have a go. Answers can be presented however you choose. Feel free to discuss the questions with friends and family. There will be house points on offer for great thinking and we would love to share some of your ideas on this website.
So, get thinking!