Mrs Rebecca Smith
Headteacher
Subject Leader: PSHE and SMSC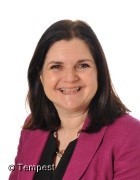 I became the Headteacher of Barnabas Oley in September 2011. I have been working in Primary education for 28 years, working with children from 3-11. I consider myself to be respectful of all individuals, fair, honest, approachable and I hope that you will find this so too! Children come first in all that I do. I set high standards for achievement , generating aspiration through creative, innovative and fun activities. If children are happy and motivated, they will achieve well.
I live locally with my husband Tim (also a Headteacher) and my three children. I have lived in Cambridgeshire since graduating from Homerton College, in 1987.
In my spare time I enjoy walking my golden retrievers, Barney and Purdie...they enjoy this too! I like going to the theatre, spending time with family and friends, researching my family tree and reading. I am a member of a church in Cambridge.
Back to Staff page