Barnabas Oley PTA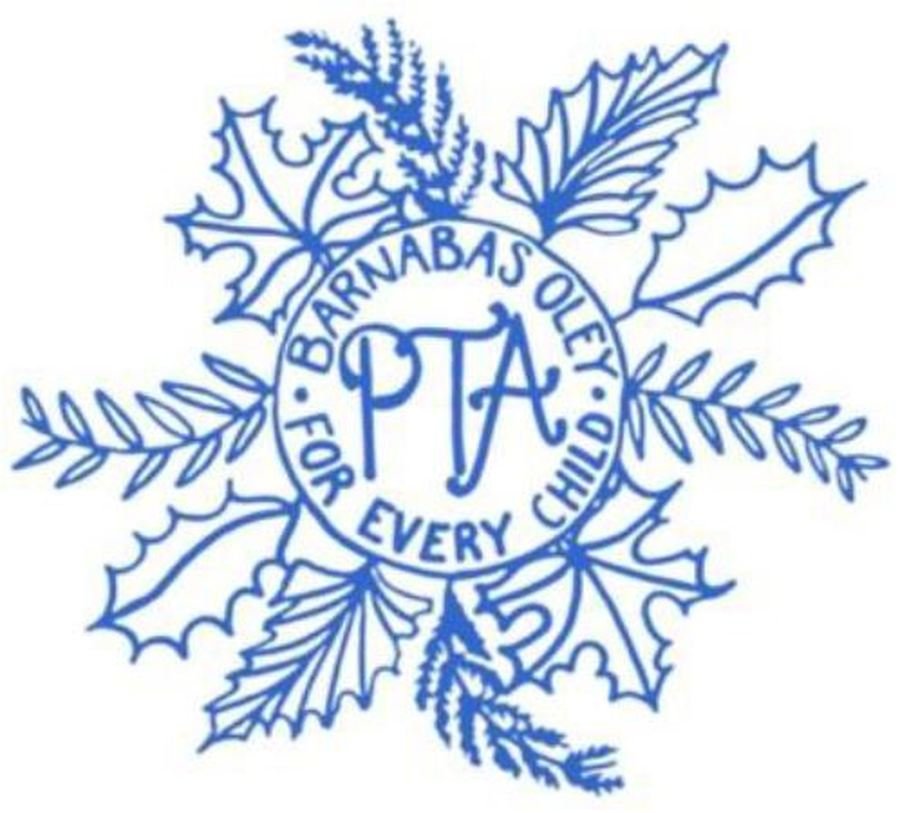 Welcome to our PTA! Membership is free and very rewarding! We raise money through a variety of events over the year, and money raised is money spent.
Over the years we have supported many projects from the ambitious swimming pool and playground refurbishment, to the fundamentals such as new computers for the ICT suite and the library renovation. And that's not all, the PTA supports lots of fun stuff such as the school trips, visiting theatre companies, storytellers, educational toys, school leavers gifts and much more.
We really value your help and are always in need of volunteers to ensure our events get off the ground and run smoothly. So have a look at our upcoming events and if you feel you can help, please join us and get stuck in. You won't regret it! If you would like to get involved please contact the school office or leave a message for the PTA Chair. Thank you.
Latest PTA Events
PTA AGM - via Zoom

06

Oct

2021

8:00 pm - 9:30 pm
Happy School Bag Clothing collection

12

Oct

2021
Cafe Oley - times tbc

15

Oct

2021
Recent News
Please see the latest school newsletter for a news update from the Barnabas Oley PTA.
See also the Calendar for a listing of upcoming PTA events.
We are always looking for more members so please do come and talk to any of us about what we do and how you can help!
Contacting the PTA
If you have any thoughts on what areas you would like the PTA to support financially during this year, please let us know by completing the form below, alternatively, email us at pta@barnabasoley.cambs.sch.uk
We would also love some extra help on the PTA and for parents to come up with new ideas for fun fundraising. If you would like to join us, or can just offer to help with some events, again, please fill in your details on the form below. We really do appreciate any help you can offer.
Fundraising made easy
100 Club
The Giving Machine
Barnabas Oley has joined 'TheGivingMachine' which allows you to generate cash donations for school without costing you a penny.
There are over 8000 schools and charities taking part in this program, with the successful causes raising £1,000's every year at no extra cost to their supporters! TheGivingMachine is a UK registered charity, whose sole aim is to facilitate raising money for UK charitable causes and schools. By shopping online via TheGivingMachine at your favourite shops, you will generate a free cash donation with every single purchase. With stores like Amazon, Ebay, M&S, NEXT, Tesco, Sainsbury and John Lewis taking part as well as hundreds more, you are bound to find what you want from your favourite shops at TheGivingMachine.
Please join our giving community by visiting TheGivingMachine and join to support Barnabas Oley School; its quick and simple to sign up and start giving for free.
Ink Cartridges - your empties please!